Gift Certificates/Custom Coupons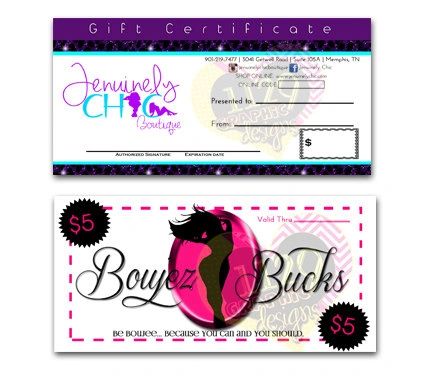 Gift Certificates/Custom Coupons
Keep your loyal customers and new customers coming by giving out gift certificates. These are perfect as contest prizes, promotional gifts and customer loyalty campaign tool. Aside from rewarding loyal customers, custom gift cards are also good as promotional tools to help increase awareness about your brand. Be sure to include all the necessary details as well as the terms for using them, if there are any.

Will I get the final digital design emailed to me? Can I use my own logo? What if I don't have a logo? Can I reorder?
Design is included, however final files are not, which means the final design will not be sent to you but may be purchased at anytime for $40.  Reorders can be placed at anytime.  Discounts are given on all reorders. If you have a logo just email it to kenya@1129designz.com with any other information you may want on your gift certificates.  If you do not have a logo, logo design is not included so your business name will be text only.  If you already have a design in mind, please send me that before I begin so that time is saved and process flows smoother.

How does it work? How do I send you my information? How long does it take?
Send me your logo if you have one and all other information to kenya@1129designz.com.  After purchase is made, I will send you a design to view and we can edit from there. 
Order will be completed in 5-10 days. Proof will be sent within that time range. If you have a need-by date this needs to be discussed before order is placed.  RUSH and same day service is always available for an extra fee.  Email me or complete contact form to inquire about  RUSH Fee.  Fee determined by how soon order is needed.